The AWETISM 2021 virtual expo is a free event targeted at Autistic and neurodivergent students both primary and secondary, who are aware of their Autism diagnosis.

Now in it's seventh year, our expo showcases the awe-inspiring talents of Autistic students by giving them a platform to present on their unique passions, theories and skills.
It also provides opportunities to build meaningful career pathways for Autistic adults and school leavers.

I CAN Network employs Autistic adults to deliver mentoring programs, insights and professional development workshops in schools, workplaces and online.

With 79 staff, 63 are Autistic mentoring over 2000 Autistic individuals nation-wide, I CAN has grown into Australia's largest Autistic-led organisation. I CAN School® mentoring directly empowers Autistic students with optimism, belonging, self-acceptance, pride and confidence. Our annual expo celebrates Autistic young people and we hope you can join us to do so. If you would like to know more about I CAN visit our website at: icannetwork.online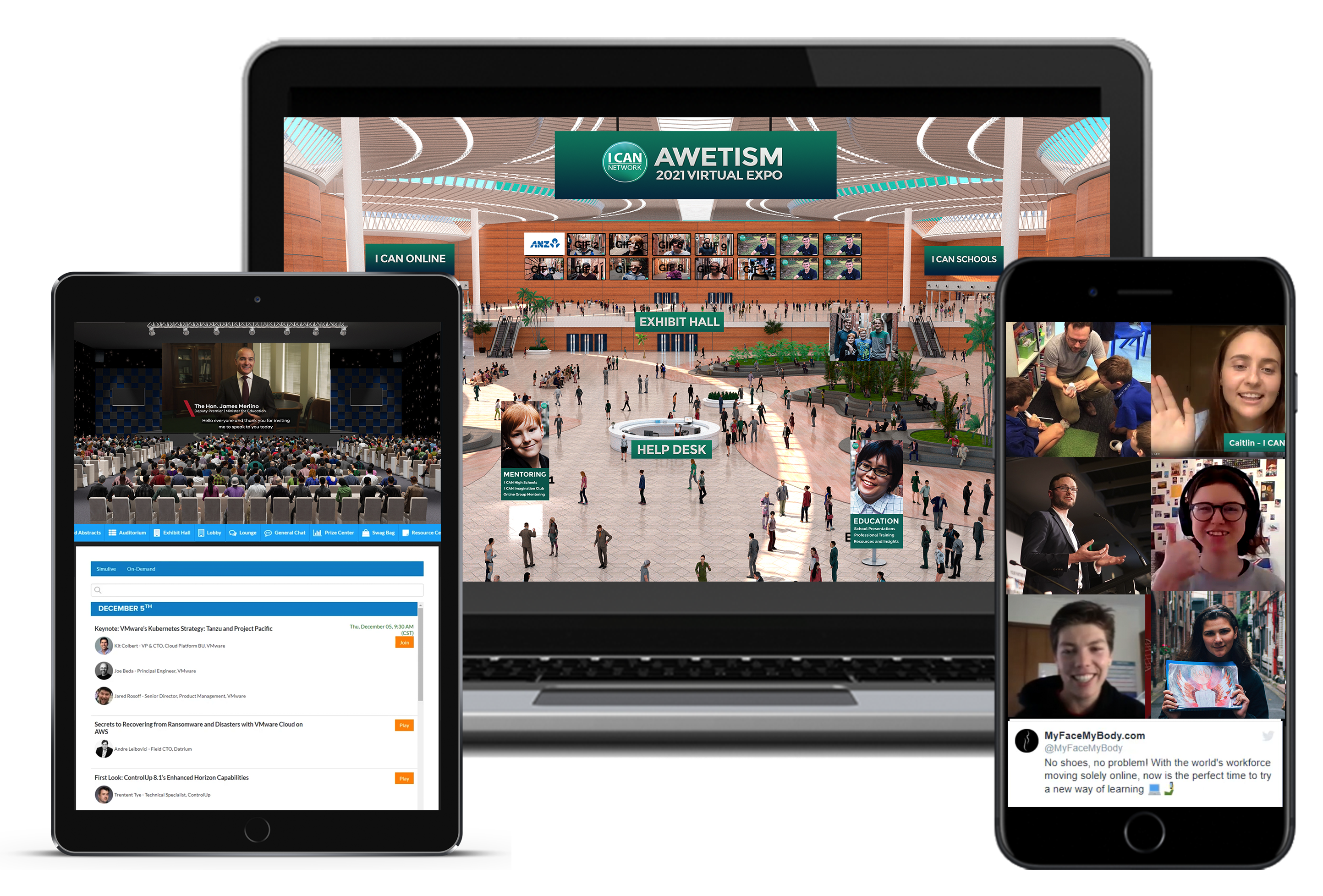 • 82 I CAN School® Programs Featured. • 10 I CAN Online Interest Group Webinars & Live Q&A's.
• 20 Exhibition Booths: Featuring Specialist Sponsors & Partners.
• All Day Specialist Presentations including I CAN Student Talks.
• Lounge Area for Interactive Support Workshops.
• Employment Pathways & Opportunites. • Scavenger Hunt -Find the "Quokka" to win!
• Quizzes & Surveys • A Leaderboard Challenge with Prizes.
• Take-home ResourceS & All Day Live Chat.
Once you register you will be given your own personal Login In details to access the event from your computer, tablet or phone.
You will enter our virtual foyer where you will be able to choose which sessions you attend, areas you explore and people you interact with.
Each session will be supervised by qualified I CAN Ltd staff.

After discussions with partnering organisations, students, staff and educators there is overwhelming need to support the mental health of students, especially at this time. This year we are focusing on promoting the mental health of students and the family unit.
To do this, we are bringing together a specific group of organisations and providers to assist our participants to offer vital support and encouragement to familes during this truly challenging time.
We are also asking " What can you say I CAN to?" to invite students and participants to tell the world about their individual strengths and passions so they're reminded of what they love and what they can control at this uncertain time. What makes them happy? What achievements have they made? What do they strive to do in their future?
"I CAN be myself without judgement.
I CAN have fun.
I CAN make friends who understand me
I CAN forget about being instantly labelled incorrectly."

I CAN Online Mentee (10), NSW
The event networks Autistic and neurodivergent students, their families and support networks with educational staff and employment professionals in a celebration of the unique strengths of Australia's Autistic youth. The stories told will tug at your heart strings and make you laugh out loud. You might also learn a new fact or two!
We would love to hear what you can say I CAN to by sending us your written or video pledges: marketing@icannetwork.com.au We look forward to hearing from you!

"A stress reliever from life. I feel I can express myself here. I've never felt as comfortable in a group. My anxiety goes away here"
"It's a great program that I think should be a part of every school. Only wish I had it earlier in school"
"Our daughter was unsure and anxious about her identity and sexuality. She had feelings of being all alone. She was withdrawn and socially isolated. After the program, she had a new sense of self, and confidence."
"To be able to share the same interests with like-minded young ones of his age has been liberating. I CAN has given him a lot of joy."
"You can't put a price on having a safe place for your child where they feel free to be themselves without fear of judgement"
Previous
Next